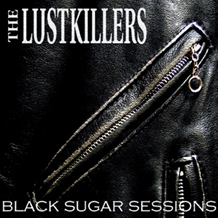 see the promo...
Black Sugar Sampler CD
Limited Pressing

The Music...

LUST of our LABOURS...

THE LUSTKILLERS recorded for various enthusiastic consorts throughout 2002.

One such collaboration made its way in pieces through the underground and industry alike...

Known as THE BLACK SUGAR SESSIONS, it was these tapes that fostered the interest of punk veterans BRIAN JAMES (the DAMNED) and DAVE TREGUNNA (SHAM69) in their 2003 LORDS of the NEW CHURCH reformation
-see LORD of the NEWEST CHURCH

For the First time,
8 tracks from the ever elusive
BLACK SUGAR SESSIONS
are now available on one CD / LP


Currently Sold Out of "Black Sugar Sessions" - PURCHASE HERE NOW AT ITUNES

Buy Direct
from NICOTINE and TORNADO RIDE RECORDS
or
PAYPAL thelustkillers@gmail.com
CD / LP $10 shipping US $5 / world $10
see also Merch Page



Get a Taste of Black Sugar...


Bad Kids 468K MP3 all the young punks


Nothing Girl 796K MP3 so dark and lonely


Culture Clash 346K MP3 oil and gasoline


Do I Love You 547K MP3 love scorned
-compliments of Mark Bradin

Unreleased 7" demos...


Middle Of It stuck here with you


What I Want I'll take all you got
-produced by Chip Hanna ONE MAN ARMY

Archived Demos...


Monkey House Acoustic '008 at Myspace


Where Are You Now The Lords o3/Becvare


So Bad To You - 112K RA feels so good


Roadmap Tattoo - 2344K MP3 cut me up
-sls studios

SoundCzech - The LK Bored Tapes...
Detention Home written by Dead Boys
3rd Generation Nation written by Dead Boys

MORE LustKillers MUSIC PAGES...
PureVolume.com
Myspace.com
UBL.com
otherWorlds

You can always reach us at theLustKillers@gmail.com