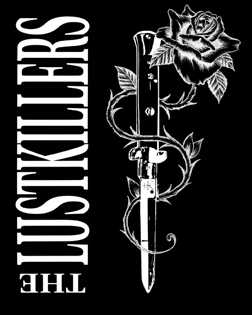 lustkillers (lust-killers) n. , pl. 1. a band of rogue rock n roll mercenaries preaching the BlankGeneration/PostPunk gospel.
Born in Chicago, Revised in SanFrancisco

The LustKillers feature Reformed Lords Of The New Church frontman and
Black Halos guitarist, Adam Becvare.

A contributing member in other such notable acts as The Heartdrops (NYC), and American Heartbreak (SF), Becvare has lived and died across North America to tour the earth, all the while revisiting the self indulgence of his own band
THE LUSTKILLERS.
As the frontman and guitarist for LK, Becvare revels in it's cast of rogue friends and players stating,
"If all we leave this place with is memories, I'm filling mine with the best I can find."
The LustKillers songs stand as a testament to Becvare's influences and Rock 'n Roll life story.
Becvare moved to Hollywood at age 18 only to nearly lose it all by 21 in Chicago.
"Everyone hears something different in THE LUSTKILLERS.
Familiar but fresh, it's really just rock 'n roll and that's all the punks were trying to recreate in '77. Everyone's too fragile and suspicious now. THE LUSTKILLERS aren't afraid to be serious while letting go. It's about being yourself, honouring your heroes and spreading that gospel. The world needs more bands out there carrying the torch and bringing back the sex of rock."
- Giselle Harvard, Harvard Journal of Rock.
The LustKillers songs are edgy, moody, witty and sometimes even charmingly sassy.
...Fast 'n Deadly like The Damned,
...Cool 'n Creepy like The Cramps,
...Dark 'n Lovely not unlike.... The Lords??

In 2003, a series of unreleased LK recordings The Black Sugar Sessions began circulating and Becvare was enlisted by founding members Brian James (The Damned) and Dave Tregunna (Sham69) to front their Lords of the New Church Reformation.
The Official Homepage here at www.LustKillers.com simply read,
"Although, No One can ever replace Stiv Bators, for me this is a great honour to serve justice for a band I owe so much of my youth to."
– Lust n Daggers, Adam Becvare
Now Thanx to Nicotine and Tornado Ride Records,
8 songs from The LustKillers Black Sugar Sessions are available on CD and Vinyl for the first time.
The LustKillers.
Not afraid to get serious.
Not afraid of fun.
And not afraid of serious fun.


PREVIOUS BLIND DATES

2009...

JUNE 2009
Jun 20 - CHICAGO, IL@ Bottom Lounge
Jun 14 - MESA, AZ @ Hollywood Alley
Jun 13 - COTTONWOOD, AZ @ Kactus Kate's
Jun 12 - ROSEMEAD, CA @ Spike's Bar
Jun 11 - SAN DIEGO, CA @ Bar Pink
Jun 10 - LAS VEGAS, NV @ Double Down Saloon
Jun 8 - HOLLYWOOD, CA - Live Webcast
Jun 7 - SAN FRANCISCO, CA @ The Knockout
Jun 6 - SAN FRANCISCO, CA @ Grant & Green Saloon
Jun 5 - HUNTINGTON BEACH, CA @ Blue Cafe
Jun 4 -TEMPE, AZ @ Jugheads
MAY 2009 - EUROPE
May 10 - MADRID, SPAIN @ Gruta 77
May 9 - BURGOS, SPAIN @ Estudio 27
May 8 - VALENCIA, SPAIN @ Sala Durango
May 7 - ORIHUELA, SPAIN - La Gramola
May 5 - BARCELONA, SPAIN @ Estraperlo Club
May 4 - TORINO, ITALY @ Manhattan
May 3 - MODENA, ITALY @ Mr Off
May 2 - SIENA (COLLE VALDELSA), ITALY @ Sonar
May 1 - MILANO, ITALY @ KM33
APRIL 2009 - EUROPE
Apr 30 – VICENZA, ITALY @ Sabotage Bar
Apr 29 - CLERMONT FERRAND, FRANCE @ Rat Pack
Apr 28 - VALENCE, FRANCE @ Mistral Palace
Apr 27 – ST. ETIENNE, FRANCE @ T-bird lounge
Apr 26 – GENEVA, SWITZERLAND @ L'Usine
Apr 25 – BESANÇON, FRANCE @ Passagers du Zinc
Apr 24 – MONTBELIARD, FRANCE @ Route 66
Apr 23 - SELESTAT, FRANCE @ le Tigre
Apr 22 – TUBINGEN, GERMANY @ Epplehaus
Apr 19 – COBURG, GERMANY @ Bei Adam
Apr 18 – ANTWERP, BELGIUM @ Bar Mondial
Apr 17– BERLIN, GERMANY @ Wild at Heart
APRIL 2009
Apr 12 - BOSTON, MA @ All Asia Cafe
Apr 11 - BALTIMORE, MD @ Sidebar
Apr 10 - LONG BRANCH NJ @ Brighton Bar
Apr 9 - NEW YORK, NY @ Bar 9
Apr 8 - HOBOKEN, NJ @Maxwell's
JANUARY 2009
Jan 31 - SCOTTSDALE, AZ @ Wok Star
Jan 30 - ROSEMEAD, CA @ Spikes
Jan 29 - HUNTINGTON BEACH, CA @ Blue Cafe
Jan 28 – TEMPE, AZ @ Stray Cat Bar and Grill
Jan 27 - SCOTTSDALE, AZ @ Guitar Center
Jan 24 - COTTONWOOD, AZ @ Kactus Kate's
Jan 23 - MESA, AZ @ Hollywood Alley

2008...
Oct 4 - SACRAMENTO, CA @ Distillery
Oct 2 - SAN JOSE, CA @ Caravan
Oct 1 - SANTA CRUZ, CA @ Blue Lagoon
Sep 27 - OAKLAND, CA @ Stork Club
Sep 26 - SAN FRANCISCO, CA @ Grant & Green
Aug 31 - CHICAGO, IL @ Liars Club
Jun 29 - CHICAGO, IL @ Liars Club
Jun 28 – CINCINNATI, OH @Blue Rock Tavern
Jun 27 - BROOKLYN, NY @ Hanks Saloon
Jun 26 - BROOKLYN, NY @ Don Pedro's
Jun 25 – PHILADELPHIA, PA @ JC Dobb's
Jun 24 - ROCHESTER, NY @ The Bug Jar
Jun 23 - BUFFALO, NY @ Merlin's
Jun 22 - Cleveland, OH @ Now That's Class
Jun 20 - ROCKFORD, IL @ Kryptonite
Feb 15 - CHICAGO, IL @ Cobra Lounge
Feb 4 - CHICAGO, IL @ Liars Club
2007...
Dec 2 – OAKLAND, CA @ Stork Club
Dec 1 - WOODLAND, CA @ The Stagg
Nov 30 - SAN FRANCISCO, CA @ Grant & Green
Nov 28 - SAN FRANCISCO, CA @ Thee Parkside
2006...
Sep 2 – CHICAGO, IL @ Double Door Lounge
2004...
Aug 1 – OAKLAND, CA @ Stork Club
Jul 31 – SAN FRANCISCO, CA @ Lost & Found Saloon
Jul 29 - SAN FRANCISCO, CA @ Slim's
Jul 27 - SAN FRANCISCO, CA - KUSF 90.3fm Interview
Jun 3 - SAN FRANCISCO, CA @ Force of Habit
May 30 - SAN FRANCISCO, CA @ Milk Bar
May 29 – SAN FRANCISCO, CA @ Lost & Found Saloon
May 27 –OAKLAND, CA @ Stork Club
May 26 - SAN FRANCISCO, CA @ Thee Parkside
May 25 - SAN FRANCISCO, CA - KUSF 90.3fm Interview
Feb 22 – CHICAGO, IL @ Double Door Lounge
2003...
Mar 7 - SAN FRANCISCO, CA - Rocker Showcase
Jan 13 - SAN FRANCISCO, CA @ Slim's
(Adrian Cote Benefit R.I.P.)
2002...
Dec 6 – OAKLAND, CA @ Imusicast.com
Nov 22 – SAN FRANCISCO, CA @ The Pound
Nov 13 – SAN FRANCISCO, CA @ 330 Ritch St
Nov 2 - ALAMEDA, CA @ Rooster's
Sep 13 - SONORA, CA @ The Lodge
Aug 29 - SAN FRANCISCO, CA @ The Pound
Aug 3 - SAN FRANCISCO, CA @ CW Saloon
Jul 26 – OAKLAND, CA @ VulcanRadio.com
Jul 20 - SAN FRANCISCO, CA @ Thee Parkside Bar
Jul 19 – OAKLAND, CA @ VulcanRadio.com
Jun 1 - SAN FRANCISCO, CA @ Slim's
May 3 – OAKLAND, CA @ VulcanRadio.com
Apr 13 - SAN FRANCISCO, CA @ The Pound
Apr 6 - SAN FRANCISCO, CA @ Thee Parkside
Mar 14 - SAN FRANCISCO, CA @ Incredibly Strange Wrestling
Jan 19 - SAN FRANCISCO, CA @ The Pound
Jan 15 - SAN FRANCISCO, CA @ Voodoo Lounge
Jan 10 – SAN FRANCISCO, CA @ Stinky's @ Justice League
2001...
Sep 8 - SAN FRANCISCO, CA @ Paradise Lounge
Aug 28 - SAN FRANCISCO, CA @ Bottom of the Hill
Aug 24 – SAN FRANCISCO, CA @ Bottom of the Hill
One by one young women vanished without a trace.
Pretty Jackie disappeared while trying to make a living selling encyclopedias door to door. Lovely college girl Maria never completed her two-hour drive home on the freeway. Beautiful pre-med student Ann failed to show up for a lunch date with her mother. Stunningly attractive Susan dropped out of sight while her boyfriend waited and worried for hours.
By then the pattern was clear. A massive search was under way, but no one suspected how ghastly these crimes were and that the sadistic monsters would turn out to be...
THE LUSTKILLERS