Greetings
-notes here updated Oct 1, 2007 a.d.

In July 2002, I was informed that founding members, BRIAN JAMES(Damned)
and DAVE TREGUNNA(Sham69) would be reforming THE LORDS of the NEW CHURCH for possible live performances.

Humbly, I submitted THE LUSTKILLERS' demos to Mr. James in an effort to have us join THE LORDS on just such a tour.

I was instead offered the Lead Vox/Guitar position for the reformed LORDS.

For me, it's a great honour to serve justice
for a band I owe so much of my youth to.
No One Can Ever Replace Stiv Bators
but now Brian and Dave can bring their music to the world once again.
Lords '007 photos compliments Sandra Smith
LORDS HALLOWEEN '007 Scrap Book

THE LORDS 2003 EuroTour Gallery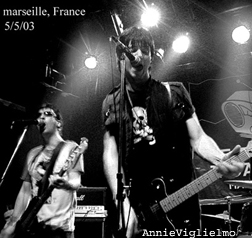 Adam wishes to personally thank so many friends Abroad Old and New
It was an honour to spend time with you as a Lord. Please do stay in touch
Adam@lustkillers.com

Lord Adam by Shannon Ciortea
Interviewed for LostInTheSupermarket.com

Stiv Bators - Rest In Peace and Love
compliments of DevorahOstrov